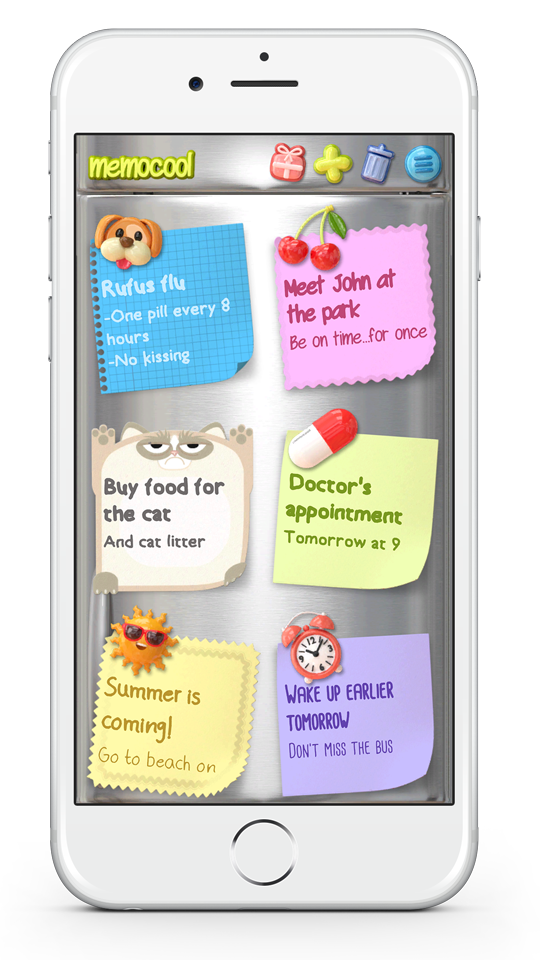 Note your ideas in a unique way with MemoCool, the funniest notepad app!
If you love decorating your fridge but also need to write down anything wherever you are ... don't worry! With MemoCool you can take the notes from your fridge in your pocket!
MAGNETIZE YOUR IDEAS
Enjoy writing down any idea or reminder easily and give personality to your notes with over 70 magnets to choose from, different types of paper, typeface, colors ... even the style of your fridge!
CUSTOM MAGNETS
Furthermore, with MemoCool you'll discover the artist in you, thanks to custom magnets with Pyssla or Hama beads. Unleash your creativity and make exclusive pixel art magnets for your notes!
MEMOCOOL FEATURES
Create notes quickly and easily
Reminders with calendar and alarm
Enjoy the most realistic and fun HD visual experience
72 great magnets. Many more to come!
12 types of paper and 12 colors
12 different typefaces, text size and alignment
12 fridge styles
Custom magnets. Up to 8 spaces!
Share your notes through Whatsapp, Facebook, Twitter, etc.
Trash recovery function, so you don't lose any notes, so you can always keep your fridge door clean ;)
Free app. Release all features with memoCoins!